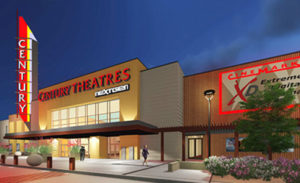 After nearly a year of lease negotiations and preliminary design, a new 14 screen Megaplex Century branded theater will soon join Tucson Marketplace under a lease with Cinemark, USA, Inc. of Dallas, Texas. Retail West Properties is performing all Landlord's Work including entitlements, design, site and hardscape construction and landscaping for the 8-acre site located between Costco and Walmart and with high visibility from Interstate 10.
The 57,000 square foot theater anchors Tucson Marketplace and serves as the entertainment hub of this destination shopping center serving Tucson and Southern Arizona. Ancillary food services and entertainment-based retailers are joining the center.
Retail West Properties serves as the development partner for the Tucson Marketplace ownership entity, Tucson Retail, LLC, and had direct responsibility for negotiating Landlord obligations including budgeting, scheduling and execution of the work for Cinemark.